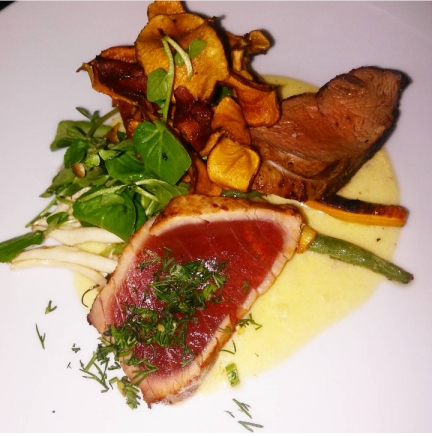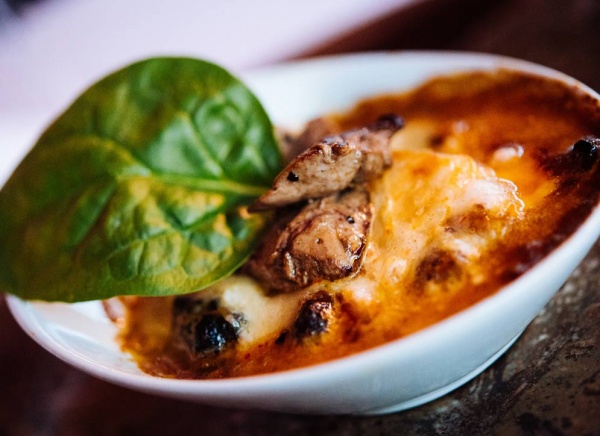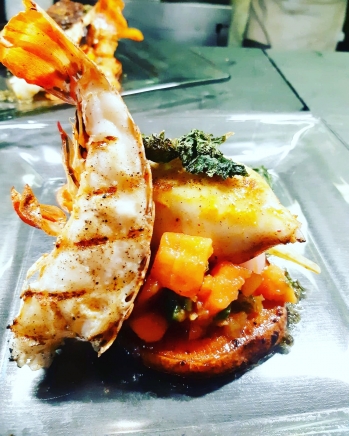 Le menu
Table d'Hôte 4 Services 59$, Ou à la Carte. Menu à l'Aveugle Non Disponible Pour le Moment.
Print
Menu à titre indicatif, selon l'arrivage des produits
ENTRÉES// APETIZERS
Salade de betteraves, pommes vertes, fromage halloumi grillé, huile de pépins de courge.// Beet salad, green apples, grilled haloumi cheese, pumpkin seed oil
Escargots beurre à l ail et ciboulette, tuile de cheddar vieilli.// Snails with garlic butter and chives, aged cheddar tuile
Tartare de thon /Tuna Tartare.extra 4$ table d'hôte
Duo de la mer: Gravlax de saumon crème sûre à l aneth, crevette sauvage d'Argentine// Salmon gravlax and shrimp, dill sour cream
PLATS PRINCIPAUX// MAIN DISHES
Magret de canard caramel salé, poêlée de légumes racines.// salt caramel duck breast, pan-fried root vegetables.
Risotto à l'ail noir, asperge et légumes grillés.//Risotto .//Black garlic risotto, asparagus and grilled vegetables
Onglet de boeuf juste saisi, sauce choco porto, gratin dauphinois.//Beef just seared, porto chocolate sauce, potato gratin.
Duo Croustillant de Canard confit et crevettes sauvages d'Argentine.//Crispy Duo of Duck Confit and Wild Argentine Shrimp
Extra 9$ en table d'hôte
Morue charbonnière, sauce vierge , mousseline de pommes de terre à la truffe// Sablefih from Alaska, virgin sauce, mashed potatoes with black truffle
DESSERTS
Tartelette citron// Lemon tartlet
Mousse chocolat.// Chocolate mousse
Assiette de fromages du Québec et noix.// Plate of Quebec cheeses and nuts.
Crème brûlée au goût du jour.// Crème brûlée flavor of the day



* Les prix sont sujets à changement sans préavis et sont affichés à titre informatif seulement.
Inscrivez-vous à notre liste VIP
Fonctions de groupe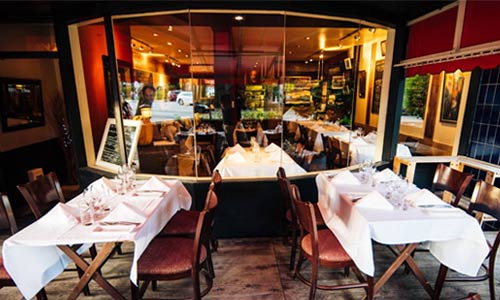 Vous voulez planifier votre prochain événement au Restaurant le Bleu Raisin. Nous pouvons accueillir vos réunions professionnelles ou vos événements familiaux. Pour plus d'informations s'il vous plaît contacter (514) 271-2333.
Contact
Restaurant Bleu Raisin
Téléphone :
(514) 271-2333
Courriel :
lebleuraisin69@gmail.com
5237, rue Saint-Denis
Montréal, QC
H2J 2M1
---
Directions
Entrez votre adresse, pour obtenir des directions.
* Les indications fournies par ce site sont à des fins de planification seulement. Les projets de construction, le trafic, la météo, ou d'autres événements peuvent causer des changements imprévus par rapport aux résultats de la carte.
Renseignements
Type

:

Française
Particularités

:

Apportez Votre Vin (BYOW), Plats Sans Gluten, Événements, Réunions de Groupe, Aliments Biologiques, Terrasse, Aliments Locaux, Pour Emporter, Plats Végétariens, Patio, Accessible aux Fauteuils Roulants, WiFi
Quartier

:

Plateau-Mont-Royal
Paiement

:

Visa, MasterCard, Interac
Prix

:

$$$$

»

Haut de Gamme (Plus $35)

Atmosphère

:

Chaleureuse
Tenue

:

Décontractée
Heures d'ouverture
À noter que les heures d'affaires peuvent varier pendant la période de vacances ou lors d'occasions spéciales. Pour plus d'informations spécifiques, contactez-nous directement.
Lundi

:

FERMÉ
Mardi

:

FERMÉ
Mercredi

:

FERMÉ
Jeudi

:

18h30 - 22h00
Vendredi

:

19h00 - 22h30
Samedi

:

17h00 - 23h00
Dimanche

:

FERMÉ
Liste VIP
S'il vous plaît prenez un moment pour remplir notre formulaire ci-dessous pour devenir un membre VIP. Les membres de nos e-bulletin VIP bénéficient d'avantages exclusifs qui comprennent l'entrée automatique dans nos concours, des invitations à des soirées cocktails, des bulletins d'information périodiques . S'il vous plaît noter que vos renseignements seront privés et que vos informations ne seront pas transmises à des tiers. Voir notre Politique de confidentialité pour plus de détails.
GAGNEZ UN DÎNER POUR DEUX
Règlement du concours : Pour participer à nos concours, vous n'avez qu'à vous inscrire au e-bulletin des membres VIP du Restaurant Bleu Raisin pour recevoir nos communications.
* Un gagnant sera choisi chaque mois et notifié par e-mail.